Foundry FastIron Edge FESX648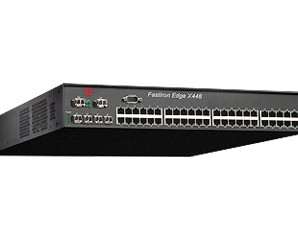 Foundry FastIron Edge FESX648
TeamKCI has leveraged its skill and knowledge of Brocade products to develop a top-level maintenance program for legacy Foundry Networks equipment.

Overview
Let TeamKCI help you design the most cost-effective Foundry Solution.
The FastIron Edge FESX648 provides flexibility, reliability, security, and extensive redundancy for operational efficiency and fast response to business opportunities today and into the future. It offers a diverse switch that meets Layer 2/Layer 3 edge, aggregation, or small-network backbone-connectivity requirements with intelligent network services, including superior quality of services (QoS), predictable performance, advanced security, comprehensive management, and integrated resiliency. It is the ideal networking platform to deliver 10 Gigabit Ethernet.
Additionally, the FastIron Edge FESX648 features the benefits a "pay-as-you-grow" architecture and price-performance value for fixed Ethernet solutions with the addition of a removable, replaceable, load-sharing power supply and 10GbE modules in a 1.5 Rack Unit (RU) form factor.
Used & Refurbished Foundry Options
TeamKCI sells refurbished Foundry equipment.  Used Foundry systems are available at big savings offering our customers alternative financial options to maximize their IT dollars.
Warranty & Support
TeamKCI offers a 12 month warranty and 9-5 technical support on all refurbished Foundry switches and all other pre-owned refurbished Foundry equipment we sell.  Extended warranties and 24x7x4 onsite support are also available for an additional charge.  Learn more.
How to Get Started?
For more information on a Foundry FESX648 or any other Foundry product simply complete the TeamKCI Quick Quote form on this page or call TeamKCI at 201-934-6500 Ext. 11 for immediate assistance.
TechSpecs
Technical Specifications
| | |
| --- | --- |
|  Switching Performance: |  136 Gbps |
|  Forwarding Performance: |  101 Mpps |
|  Layer 3 IPv4 Entries Hardware: |  256,000 |
|  10/100/1000 Port Density: |  48 with 4-port Combo |
|  10 Gigabit Ethernet: |  2-port XFP Module |
|  Power Supply Redundancy: |  1+1 for System |
End-Of-Life
Foundry FastIron Edge FESX648 End-of-Life Notification
On February 5, 2013 Brocade Communications issued an End-of-Life Notice for the Foundry FESX648.
To view this notice click here.
DO NOT BE CONCERNED WITH MANUFACTURERS' END-OF-SUPPORT DATES.
We are EOL/EOS & Legacy Equipment & Maintenance Specialists and will maintain the Foundry FESX648 for as long as you continue to use it.
For a fast and accurate quote, fill out the form at the right.
Maintenance
TeamKCI maintenance services offer:
Spare parts stored on premises to facilitate rapid repairs and ensure that most problems can be handled with a single maintenance call.
A 24 x 7 response capability that allows our customers to speak with a product specialist within thirty minutes of placing a call any time of day or night.
On site response time of four hours or less.
Our pledge to only use tested OEM parts.
Prices that are at a minimum 50% less than the OEM's list price.
Our promise to maintain your legacy equipment for as long as you choose to use it. TeamKCI has no End-of-Life or End-of-Support dates. We have never dropped service on any product we accepted for maintenance until our very last customer had stopped using it.
A lifetime rate guarantee never to escalate your initial rate.
Operational software support for all software and firmware you are using at its current EC level.