Foundry BigIron RX BI-RX-8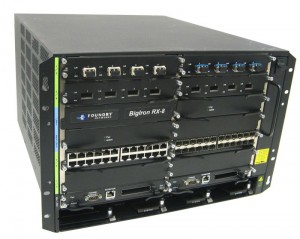 Foundry BigIron BI-RX-8
TeamKCI has leveraged its skill and knowledge of Brocade products to develop a top-level maintenance program for legacy Foundry Networks equipment.

Overview
Let TeamKCI help you design the most cost-effective Foundry Solution.
The Foundry BigIron RX BI-RX-8 switch enables network designers to deploy an Ethernet infrastructure that addresses today's requirements with a scalable architecture designed to support network growth and evolution. Total Cost of Ownership (TCO).
Used & Refurbished Foundry Options
TeamKCI sells refurbished Foundry equipment.  Used Foundry systems are available at big savings offering our customers alternative financial options to maximize their IT dollars.
Warranty & Support
TeamKCI offers a 12 month warranty and 9-5 technical support on all refurbished Foundry switches and all other pre-owned refurbished Foundry equipment we sell.  Extended warranties and 24x7x4 onsite support are also available for an additional charge.  Learn more.
How to Get Started?
For more information on a Foundry Bi-RX-8 or any other Foundry product simply complete the TeamKCI Quick Quote form on this page or call TeamKCI at 201-934-6500 Ext. 11 for immediate assistance.
TechSpecs
Technical Specifications
| | |
| --- | --- |
|  Slots: |  8 |
|  Total Switching Capacity: |  1.92 Tbps |
|  Packet Forwarding Capacity: |  571 Mpps |
|  Maximum ports: |  128/384 |
|  Height: |  12.25 in./7RU |
|  Power Supply Redundancy: |  M+N |
End-Of-Life
Foundry BigIron RX BI-RX-8 End-of-Life Notification
On November 1, 2012, Brocade Communications issued an End-of-Life Notice for the Foundry BI-RX-8.
To view this notice click here.
DO NOT BE CONCERNED WITH MANUFACTURERS' END-OF-SUPPORT DATES.
We are EOL/EOS & Legacy Equipment & Maintenance Specialists and will maintain the Foundry BI-RX-8 for as long as you continue to use it.
For a fast and accurate quote, fill out the form at the right.
Maintenance
TeamKCI maintenance services offer:
Spare parts stored on premises to facilitate rapid repairs and ensure that most problems can be handled with a single maintenance call.
A 24 x 7 response capability that allows our customers to speak with a product specialist within thirty minutes of placing a call any time of day or night.
On site response time of four hours or less.
Our pledge to only use tested OEM parts.
Prices that are at a minimum 50% less than the OEM's list price.
Our promise to maintain your legacy equipment for as long as you choose to use it. TeamKCI has no End-of-Life or End-of-Support dates. We have never dropped service on any product we accepted for maintenance until our very last customer had stopped using it.
A lifetime rate guarantee never to escalate your initial rate.
Operational software support for all software and firmware you are using at its current EC level.